Senaste nytt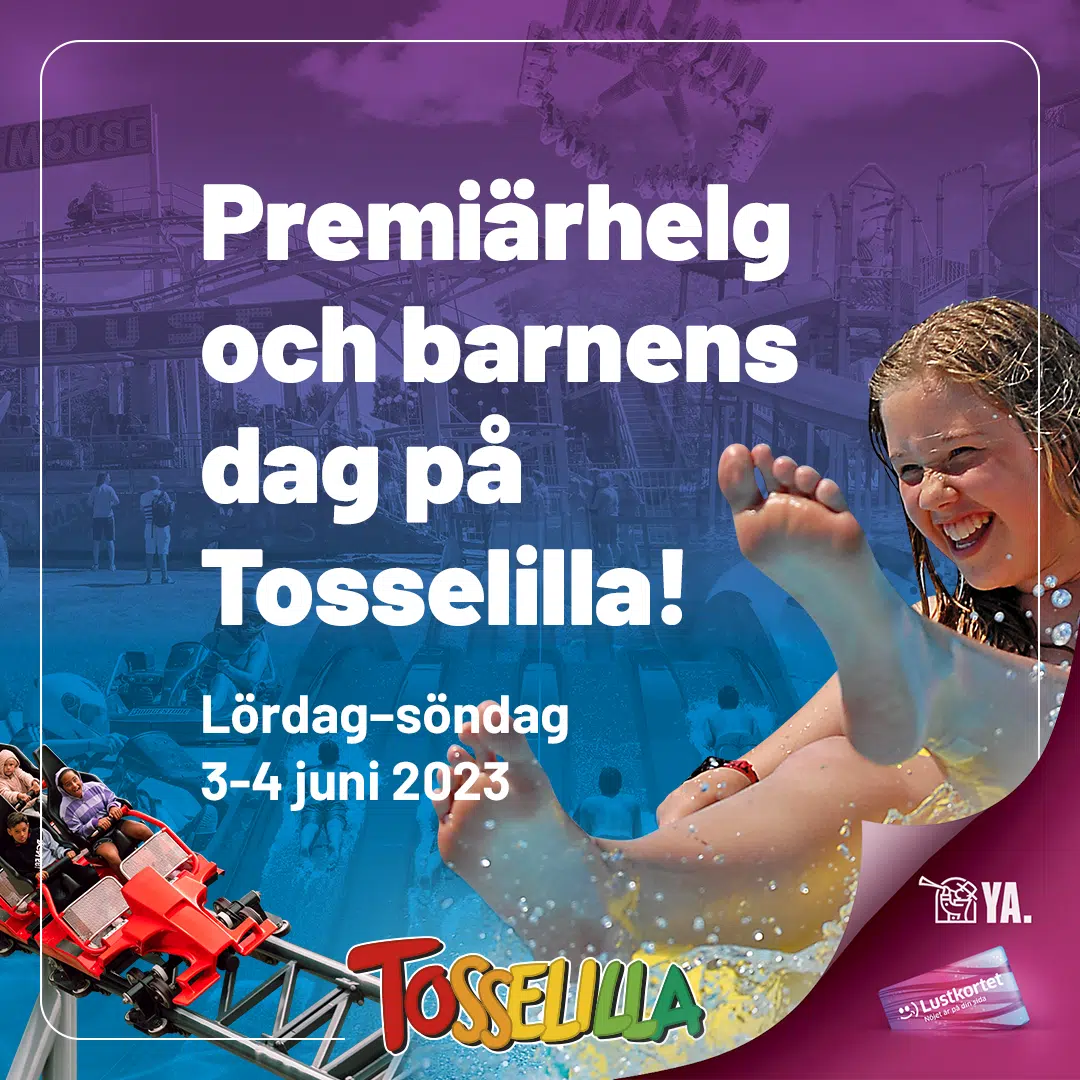 10 May 2023
Premiere weekend and Children's Day at Tosselilla!
Finally, this year's premiere at Tosselilla is approaching! On June 3-4, we start the season for 2023 with Children's Day at Tosselilla. Associations and companies will participate and create fun...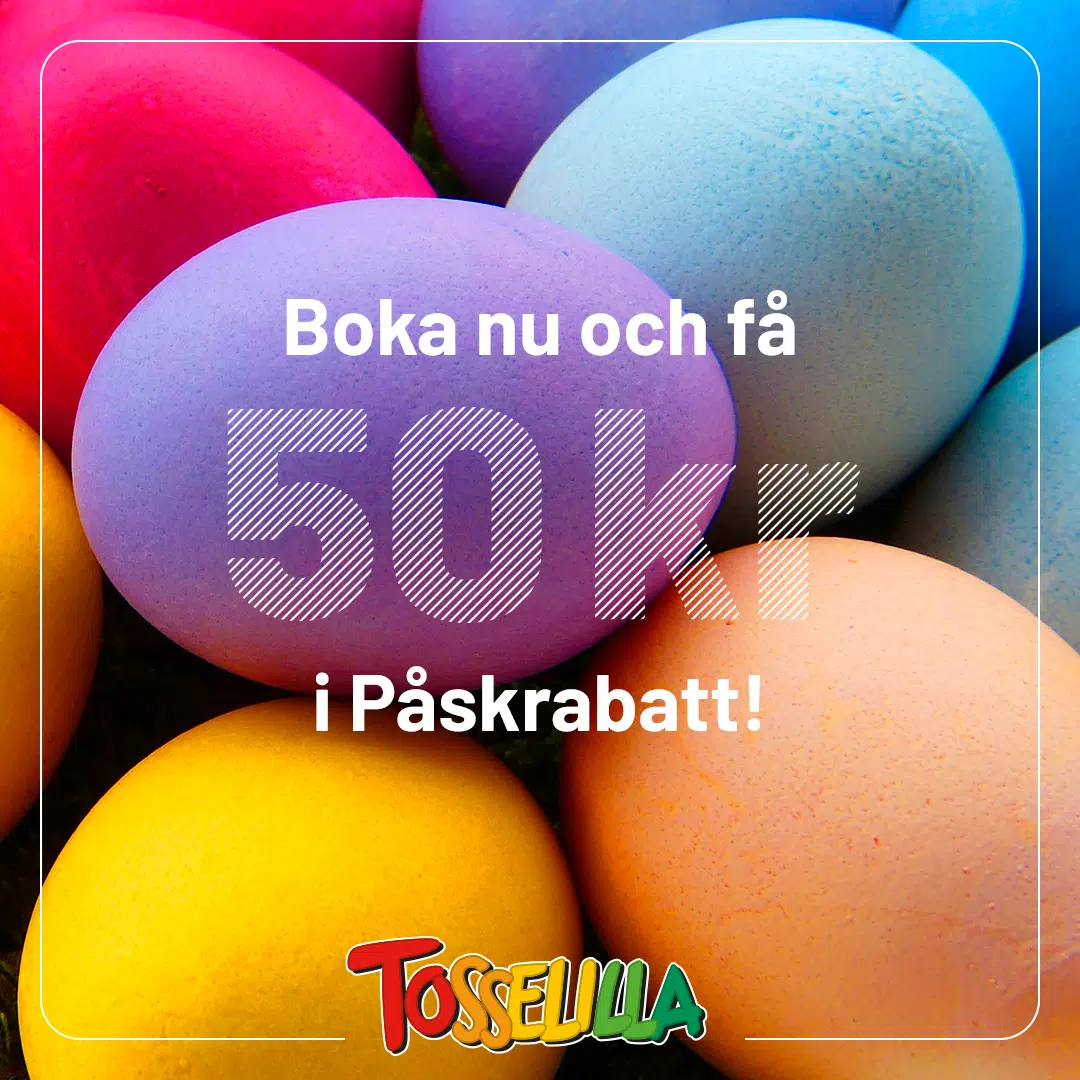 16 April 2023
SEK 50 discount on low-season tickets!!!
Right now we are running a campaign on our low season prices. Buy now and save SEK 50 per ticket (SEK 285 instead of SEK 335) The ticket can be rebooked to another day during low season. Click in…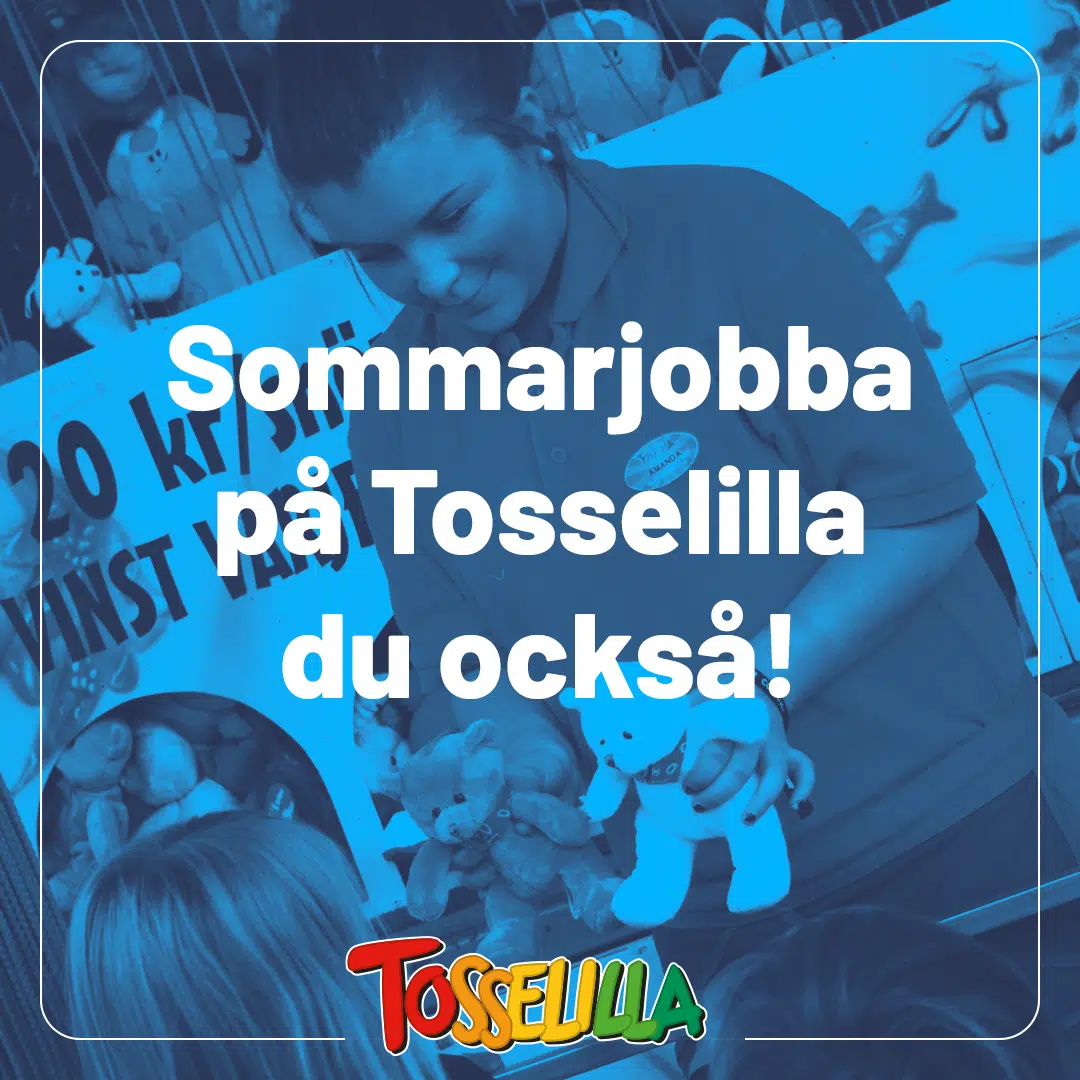 24 February 2023
Applications are now open for summer jobs at Tosselilla in the 2023 season. Read more and apply for summer jobs today.
Tosselilla amusement park and summerland
Welcome to Tosselilla!
Welcome to Tosselilla - the summer country for the whole family! We are pleased to be able to offer a variety of activities and attractions suitable for both young and old children, parents and grandparents.
Here at Tosselilla, there is always something to do. Visit our water park where for the younger visitors there is a child-friendly pool and playground with swings and slides. Older children will love our water slides that take them on a thrilling ride through the water. For those who prefer a little more adrenaline, you can try the roller coaster that takes you on a fast and exciting ride.
But it's not just our attractions that make Tosselilla a great destination for the whole family. We also have a beautiful zoo where you can take a relaxing walk among the animals and enjoy the beautiful surroundings. In addition, you can try mini golf or have a coffee in one of our cafes.
We also have different themed days with activities and entertainment suitable for the whole family. At Tosselilla you can spend the whole day without having a dull moment. We are also happy to offer the opportunity to bring your own food and picnic on our lawns if you prefer.
Tosselilla in Tomelilla Skåne is truly a summer country for the whole family and we hope you will come and create summer memories with us. Here on our website you can find more information about our attractions, opening hours and prices.
A summer country that has everything
Waterland - The water park at Tosselilla sommarland is a popular destination for both children and adults who are looking to have fun in the sun and cool off from the summer heat. Our water park has a wide range of water attractions for all ages. Try e.g. Hyper, which is Europe's longest and fastest ProRacer, the 1000 m2 adventure park with several exciting water slides or our 9 tempering pools. For the very smallest children, there are adapted slides and pools where the parents can join in playing and splashing in our water park.
Tivoli – In the amusement park you will find a variety of attractions such as roller coasters, radio cars, the teacups, child-friendly free fall and much more. We hope that everyone will be able to have fun in our summer country and therefore try to adapt the offer to suit all ages, both young and old, adults and children.
Zoo – For those who love animals, a tip is to visit Tosseparken. In Tosseparken you can meet sheep, goats, Linderöds pigs, cows and Highland Cattle. Some animals and birds can even run loose in our theme park, making it a very family-friendly visit with a little bit of everything.
In addition to our water park, amusement park and zoo, there are many other attractions and activities to discover in our theme park. Tosselilla is Scania's largest amusement park with a variety of attractions where we are sure you will find something that the whole family will find fun.
An adventure for the whole family
A fast-paced adventure
At Tosselilla sommerland, every day is an adventure and we are passionate about giving our visitors the best experience. With our wide range of attractions, zoo, water park and carousels, we can guarantee a fast-paced adventure suitable for most ages.
With us you can spend the whole day without it being too expensive and we also give you the opportunity to bring your own food for a picnic on our lawns. We are delighted to be able to offer an affordable experience for the whole family.
Welcome to visit an amusement park in Sweden where the adventure never ends!
Buy our season ticket
Buying a season ticket to our amusement park is an excellent idea for visitors who want to have fun in the park several times during the season. With a season pass, you as a visitor can access the park at any time during opening hours and make every day an adventure.
The season ticket is valid for an unlimited number of visits throughout the season and is personal to you. You therefore do not need to book a date in advance, but can come whenever you want during our opening hours.
By buying a season ticket to Summerland, you can enjoy the park in a convenient and cost-effective way. Enjoy all the exciting attractions and activities that Tosselilla has to offer without feeling the stress of missing out.